Newcastle Taekwondo LWMA

will help you get fit, stay healthy and have fun!

Miss Walker teaching 11th to 18th July


Scottish Championships 12th September in Edinburgh - entries by 17th August




Midlands Championships results

James T (1st Dan) - Silver sparring
Our Program
We follow the TAGB grading system. Students are examined by an 8th degree Black Belt every 3 to 6 months before the next belt is awarded.
Our instructors are TAGB qualified to Black Belt level, fun to work with, and completely professional.
Our schools have changing and shower facilities.
New membership
West Denton - Open to new members, limited places.
Jesmond - Currently open to new members
About Us
Our mission is to help you get into the best shape of your life and teach you valuable martial arts skills at the same time. We believe that anyone can learn Taekwondo. You're never too young or old to get healthy and fit with a regular program of exercise.
Services
Fully insured and CRB checked instructors.
Coaching at all levels.
Training from 1 to 4 days a week in two locations.
Access to both National and International competitions for those who want to test their skills.
Drop by anytime to see our facilities and learn more about our school.
You can contact us here for Lydia or here for Peter.
Times & Places
Tuesday & Thursday 6:30 to 7:30pm - Mr Collins 2nd Dan - All Saints Sports Centre, West Denton Way, West Denton, NE5 2SZ.
Wednesday 7:00 to 8:00pm - Mr Collins 2nd Dan- Northumberland Club, North Jesmond Avenue, Jesmond, NE2 3JU.
Saturday 11am to 12pm - Miss Walker 3rd Dan - All Saints Sports Centre, West Denton Way, West Denton, NE5 2SZ.
Want to train in Whitley Bay? http://whitleybaytkd.co.uk/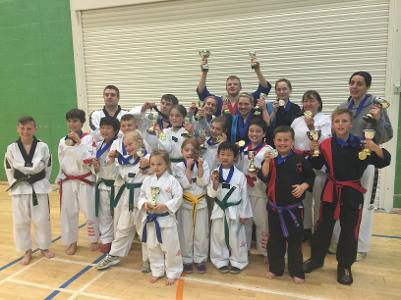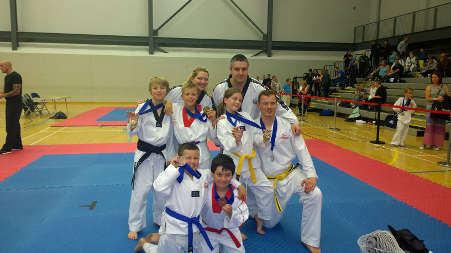 Team photo at the Linconshire Championships 09/05/2015
Team photo at The Scottish Championships 06/09/2014